The BD Influx, jet-in-air, cell sorter is a highly adaptable system with greater flexibility in comparison to our BD FACS Aria IIu. The nozzle assembly is designed so that higher frequencies can be achieved with lower pressures allowing for efficient processing of delicate samples (neurons, transfected ES cells) while operating at good speeds. The nozzle design also allows for very high throughput processing of large volume bulk samples from sources like yeast, bone marrow and spleen with excellent purity and viability.
The instrument is equipped with four lasers at 405 nm (violet), 488 nm (blue), 561 nm (yellow-green) and 640 nm (red). It has 14 fluorescence detectors and can detect colours like Alexa Fluor 555, mCherry, mPlum, DsRed-Express, Tag- RFP and Rhodamine Red-X in addition to all the standard fluorescent probes used in most flow cytometry applications.
Although the Influx has 14 fluorescent detectors it is recommended to limit the number of fluorescent markers in sorting experiments to NO MORE than seven fluorophores.   All panels must be run by the FCF operators to ensure the Influx will properly handle the experiment and compensation controls must be prepared on cells.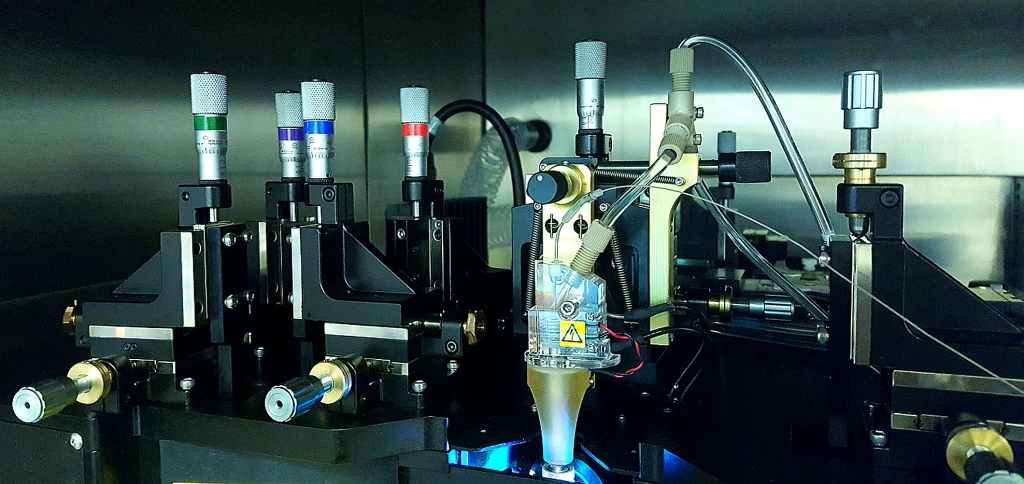 For operator safety and sample sterility, the instrument is housed inside a class IIa, A2, biosafety cabinet for sorting of BSL-2 samples such as lentiviral infected cell lines, bacteria and infected/non-infected human samples. The sample collection holders are quite modular and can accommodate 2 x 50 mL tubes, 1-50 mL tube + 2- 5mL tubes all the way down to Eppendorf tubes and microtiter plates for bulk and clonal sorts.
Please refer to our page on Sample Preparation for Sorting and concentrate your samples according to the guidelines below.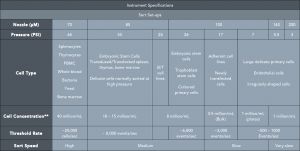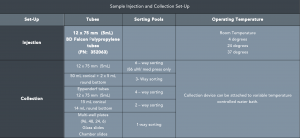 Download a copy the BD Influx specifications – BDInflux_Specs